ACCELERATE  YOUR  CAREER


with 

♦

 NEW TACTICS,


♦

 NEW FUNCTIONALITY, and


♦

 SERIAL BREAKTHROUGHS

An action-biased career consultant, catalyst, and co-creator is now accelerating careers through serial information leaps such as breakthroughs, epiphanies, creative inspirations, coincidences, flashes of genius, and innovations.  A single breakthrough can be life-changing, career-making, and even world-changing.  Imagine what you could achieve with a lifetime of leaps!
Research into the superior information access of Rain-Man-type savants (Dustin Hoffman's award-winning role) has yielded an unprecedented way for even the ordinary to achieve the extraordinary.  Biological anthropologist and career maximization wizard, Lauren Holmes, is offering an incredible career acceleration package as she prepares for the upcoming release of her groundbreaking book: Savanting – Outperforming your Potential.

As a product of her own techniques, Lauren has lived a career of serial breakthroughs in the fields of her greatest strengths:  ♦ raising the bar on human peak performance, ♦ cultivating new functionality and meta-skills, and ♦ pushing the envelope on biological maximization to create world-changing careers.  There will be no cookie-cutter coaching for those executives or non-executives who grab hold of this amazing opportunity for customized career maximization strategy and co-execution.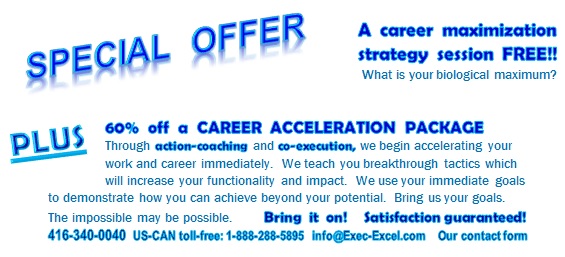 If you like what you learn in your free strategy session, this Career Acceleration package is the means to speed your implementation.  For a limited time, pay only $200 for each of 5 additional sessions of one to two hours plus email support.  At minimum, this is a 60% saving from a seasoned career-maker – even without the free strategy session.
♦  Give us any career or work goal and we will co-execute it with you as the means to teach you a new way for achieving goals faster, bigger, and better.  Our co-execution may include coaching, consulting, career management, strategic planning, project management, leadership, job search, job creation, job redesign, inventing or advancing new frontiers, launching new ventures, or designing custom-fit entrepreneurial companies where your genius will soar.  We aspire to enable you to achieve beyond your potential.
Sign up today to dramatically upgrade your career potential !
This is a limited time offer. 

Contact us below

to find out more or to book your free strategy session. 
♦

All work is confidential and

♦

satisfaction is guaranteed.  Our career or work acceleration services are

♦

available globally via telephone and internet.

♦

All payments are simple responses to our emailed PayPal invoices.  Your credit card information is never revealed to us.

Further Reading:
Sourcing your Savant: Hyper-Focus your Career on your Genius
Reset to your Maximum to outperform your potential